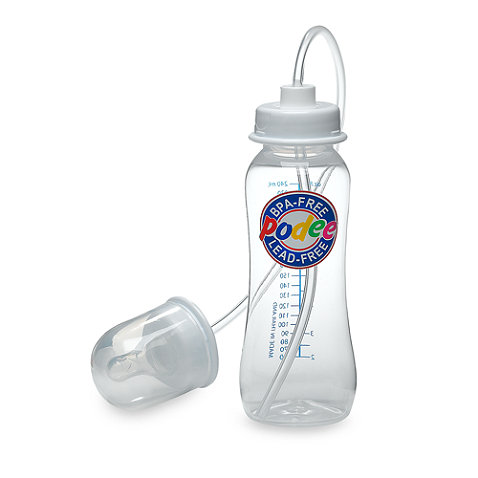 I have wished there was a bottle like this before knowing such a thing even existed. I first saw it on a Facebook ad and told myself that I ought to get it for Jet even though he already has enough bottles. I predicted that with this, Jet would be less fussy during car rides. I also thought that it would train him to hold a bottle on his own quicker, thus allowing him to be more independent (bottle-holding wise). I'm quite concerned about the latter because he cannot hold a bottle on his own yet-- he would hold it for a few seconds and then let go-- I'm assuming he's just being lazy and dependent, but could this even be the case? Or perhaps it's my problem for not letting him practice enough?
In general, I expected this bottle to simplify things. Unfortunately, this did not work for us. I don't blame its quality though, but it just doesn't suit babies who are overly active, i.e. whose hands are always reaching for and grabbing things. When using this, I still have to hold it for Jet [in a feeding position], otherwise he'll spit out the nipple or pull/ grab the straw. In most cases, he does it all. Podia's hands-free bottle's nipple acts like a pacifier, but I have never given Jet a pacifier due to sanitary and teeth concerns, as well as becoming a long-term habit. He's now almost 8 months, and judging from the way he treats this bottle, giving him a pacifier to soothe his fussiness now would not be a solution. I definitely left out this fact when getting this bottle. I also find the straw of this bottle difficult to clean.
Aside from the negatives, there are more positive reviews on Podee's hands-free bottle than the contrary. So I guess our situation is just a rare one. If this bottle works for your baby, it will make more room in your schedule.